Energy and Water Management Award to Robinson
November 15, 2017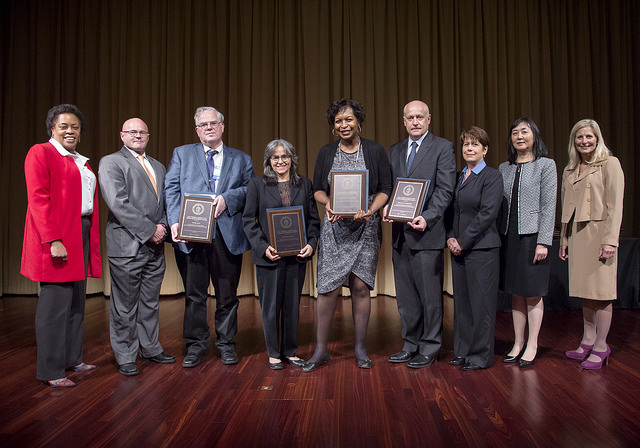 Gerald Robinson recently received a 2017 Federal Energy and Water Management Award for his work as part of a federal team that developed an innovative, multi-agency contract solution that saved the government millions of dollars. In the picture, Robinson is fourth from the right.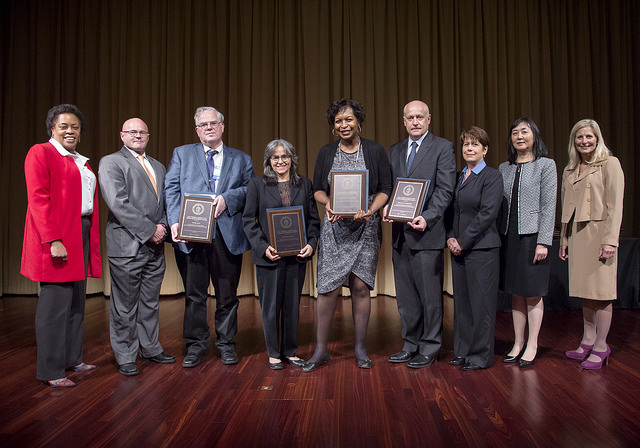 Robinson worked with several agencies to conduct the first-ever aggregated procurement for on-site solar PV arrays. By pooling their buying power, the agencies made it easier and cheaper for vendors to respond to their solicitation, which led to a lower overall project cost. ​The coordinated effort saved the government an estimated ​$13.8 million and created 93 U.S. jobs.
Out of the total number of sites in the contract, four achieved net zero; two sites incorporated battery storage; and four sites incorporated a new approach to EV chargers which were integrated with solar-shaded carports.
The effort inspired a parallel effort in Washington, D.C. called the Capitol Solar Challenge and a permanent, nationwide program called the Affordable Power Infrastructure Partnerships.
Robinson is a program manager in the Building & Industrial Applications Department, Building Technology & Urban Systems Division, in the Energy Technologies area at Berkeley Lab.
Related Links