ETA's Christian Kohler Aspires to Serve
November 1, 2016
One Sunday evening, in 2007, Christian Kohler and his dinner date, Jina Shah, were presented with a most unusual check at Karma Kitchen, a monthly experiment in "pay it forward" dining served by volunteers at the Taste of the Himalayas, an Indian/Nepalese restaurant in downtown Berkeley.
The price of their meal? Zero dollars. But it came with a karmic twist. They could pay it forward by paying for someone else's meal, volunteering at the restaurant, or carrying out another random act of kindness.
They enjoyed their first date at Karma Kitchen so much that they agreed to volunteer there—together. She worked a few shifts as a server, while he tried out his skills as a dishwasher. "It was humbling work. I have a lot of respect for people who have to do this type of work every day," Kohler said, who at the time was a Principal Scientific Engineering Associate at Berkeley Lab. He has been at the Lab for twenty years and is now the Deputy Head of the Building Technologies Department in the Energy Technologies Area.
A Passage to India: Building a Safe Place for Women to Work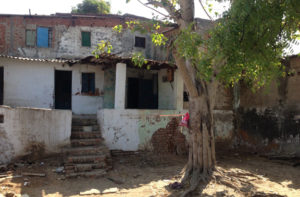 Married since 2012, Kohler and Shah continue to volunteer, this time in other countries. After an especially rewarding medical volunteering trip in Nicaragua (Shah has a professional background in public health), they wondered what would happen if they took a year off from work and the comforts of home to live a full-time life of volunteering abroad.
So in February 2015, they travelled to Ahmedabad, a populous city in Gujarat, India, where they volunteered for Manav Sadhna, a nongovernmental organization dedicated to improving the living conditions in India's slums.
With his expertise in building technologies, Kohler was a natural fit for his first project: building a trash-sorting facility in Manav Sadhna's courtyard for the "ragpickers," local women who make their living by collecting and recycling scrap waste materials, such as metal, plastic, and paper. "These women had to sort trash in their own homes, where they were cooking and caring for small children," Kohler said. "They needed a safe, hygienic place to work so they could keep the waste out of their homes."
Manav Sadhna initially wanted to build a courtyard roof with LED lighting powered by solar panels. But these lighting technologies were beyond their budget, so Kohler suggested that they install louvers instead to let in sunlight and outside air for natural lighting and ventilation, and reflective barriers on the roof to deflect heat from the sun. Within a few weeks, and after spending just $4,000 for a 2,800-square-foot roof, the women now had a safe and comfortable place to work.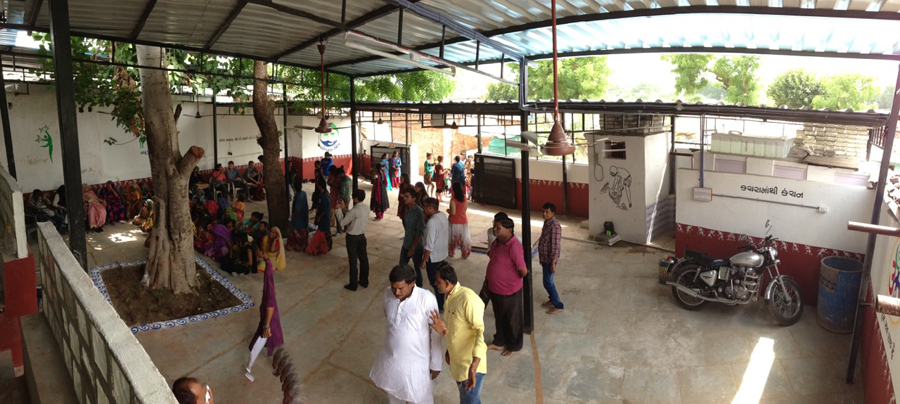 Packing Disaster Kits for Nepal
Kohler and Shah were planning a trip to cooler Northern India (Manav Sadhna had scheduled a two-week break during the hottest part of the summer) when they heard the terrible news: A 7.9 magnitude earthquake struck central Nepal on April 25, leaving more than 7,500 people dead. "I remember thinking, 'How could we possibly go on vacation when we could go to Nepal to help?'" he recalled.
So Kohler, along with Shah and eight other Manav Sadhna staff members, boarded a plane headed for Kathmandu, Nepal's capital. The airline permitted each traveler to bring 100 pounds of disaster relief supplies, or a thousand pounds for the whole group. "We packed tarps, masks, medical supplies, water purifiers, SteriPENs, LifeStraws, surge protectors, tripods," he added. "Everything we could think of. We didn't know what to expect."
Though Kohler and the other volunteers arrived in the Nepali agricultural villages of Ranipani and Bakultar more than a week after the massive temblor, villagers of all ages were still clearing their homes of fallen brick and debris. "Everyone was working. I even saw an old woman—she must've been around 80—stooping down to pick up rubble with her bare hands," he said. "Many houses had been reduced to nothing. Another woman (pictured below) lost everything except a paper tag with her address."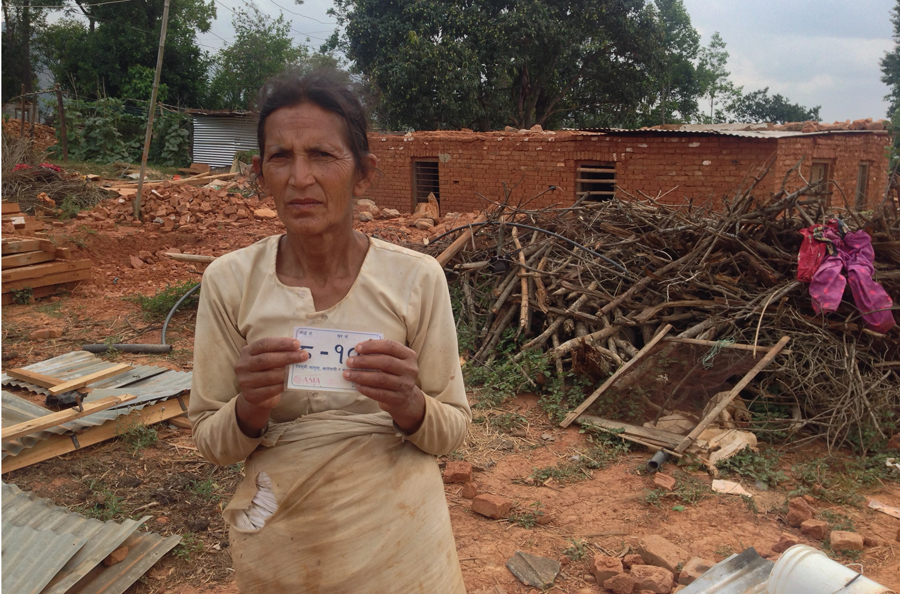 Kohler had just completed a demographic survey of people who lost their homes in Ranipani when, on May 12 at noon, a 7.3 magnitude aftershock rumbled through the village. "It was scary. We ran outside and saw houses collapse into big piles of dust. We wondered if kids were inside. I get really emotional thinking about it," he said.
Luckily for Kohler and the others in the group, no one was hurt. But in the aftermath, even more houses—many of which were three-story houses made of mud bricks—had to be abandoned.
Surveying the Damage: A Blueprint of Hop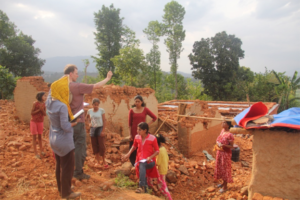 To help the villagers start the long process of rebuilding, Kohler decided to take another survey, this time ranking a building's condition on a scale of 1 to 10, with 1 being a pile of rubble, and 10 being no visible damage. "I wanted to equip them with information on whether they should rebuild," he said.
Kohler managed to survey about 25 percent of the nearly 300 homes in Ranipani and Bakultar, with 70 percent receiving a score of 6 or less. Today, Manav Sadhna has the survey results and recommendations for rebuilding, but the NGO and others like it are still trying to raise enough funds for the hundreds of thousands of Nepalese whose homes were destroyed by the earthquake.
On their return to Ahmedabad, Kohler worked on a number of other projects, including teaching kids how to code, and developing an iPad-based tuberculosis survey with Jina. "Working on the tuberculosis survey was really rewarding," he said. "I felt like we had a direct effect on improving people's knowledge about health and thereby preventing the spread of diseases such as tuberculosis."
Back in Berkeley, Kohler has gained a better appreciation for his life here and his ability to help people in need, no matter the circumstances. "I am so grateful that the Lab let me take a year off to volunteer and serve others in another part of the world," he said. "It was rewarding work in ways that I never would have expected."