Granderson Helps Design Face Shields for Hospital Staff
October 12, 2020
With a day job as deputy of research for Building Technology and Urban Systems Division at Lawrence Berkeley National Laboratory (Berkeley Lab) and another full-time job as a parent to a young child, Jessica Granderson still found more time to carve out of her schedule this year to help design face shields for hospital staff.
"Back in March when we were initially confronting our regional surge in COVID-19 cases, a friend of mine from grad school called me up and said we really need to do something to address the PPE [Personal Protective Equipment] shortages," she said.
Granderson earned her PhD in mechanical engineering at the University of California Berkeley, where she focused on human-centered designed. Along with her classmate, Jaspal Sadhu, now a UC Berkeley professor of public health, and what would grow to be a team of six professionals and nearly two dozen students, they called their volunteer effort Shield the Bay.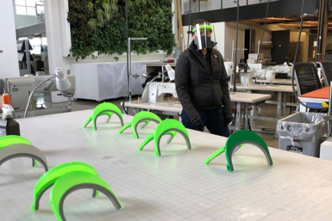 They ended up with a highly successful face shield that is regularly used by hospital clinical staff, and they were selected as one of 21 grantees, out of 2,900 applicants, by the Booz Allen Foundation Innovation Fund. But the journey turned out far different from what she initially anticipated.
Their goal was to serve public healthcare systems that might be most in need. "We thought it was going to be a pretty straightforward," she said. "UC San Francisco had an open-source design, and we thought we could run with that."
But after meeting with infection control experts from the Alameda Health System, which runs Highland Hospital and a dozen other hospitals and wellness centers in Alameda County, they learned the UCSF design wouldn't meet the health system requirements.
"That started us down a pathway of design, fabrication, assembly, and multiple rounds of prototyping in collaboration with the head of infection control, with procurement teams, and most critically, with the emergency department staff, directors of nursing, and so on," Granderson said.
They started a crowdfunding effort that has raised more than $16,000, built up a network of 3D printers, including from a group of high school students, and got to work.
Some of their design innovations include: using nonporous foam to provide a comfortable fit and block sweat, shortening the length of the face shield so it doesn't hit the chest when the wearer is looking down, finding the right plastic to ensure optical clarity, and allowing the plastic shield to be disposable after a patient encounter while the frame, or headband, can be reused.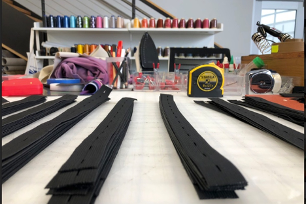 Overall, the product is more durable, lightweight and comfortable. "We were successful in part because we were able to draw upon our team's deep professional domain expertise," Granderson said.
"We think the design will also work for classrooms and other environments." From a personal standpoint, the design process "brought me back to my design roots," she said. "It provided an opportunity to use that same mode of thinking, in partnership with our team and the intended users of this product."
Now Shield the Bay has distributed about 20,000 face shields to Alameda Health System hospitals and received very positive feedback from users. The design file is available for anyone with a 3D printer. But in order to meet continuing demand and manufacture at higher volumes with a better quality, the team has transitioned to injection molding. She hopes that a company or nonprofit will be interested in taking it on.
"We have a very solid vetted product. But we are looking for others to hand off to, because we all have day jobs," she said.
Though the journey did not go as expected, it's been deeply gratifying, Granderson said.
"One thing earlier in the pandemic that was so difficult was just this desire to do something. There were very few opportunities to make any kind of difference. You're navigating anxieties and sadness of national and global trauma," she said. "I felt very fortunate to have something concrete to do that could actually help – and specifically to do so locally at home in the East Bay, with our county system serving our communities, including communities of color, was incredibly important."