Researcher Chosen for Water Leadership Program
April 10, 2019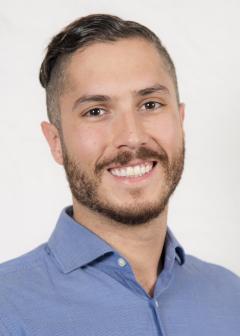 An innovative researcher has been accepted into a prestigious program designed to advance collaboration about water management in California, by engaging stakeholders and bridging differences.
Arian Aghajanzadeh, an engineer in the Energy Technologies Area (ETA) at Lawrence Berkeley National Laboratory (Berkeley Lab), will participate in the Water Solutions Network's second learning cohort of California's water sector leaders.
The Network provides training and advances cross-sector collaboration among established and emerging leaders in the high-stakes field of water policy and management. The cohort includes representatives from multiple sectors and communities across California and a variety of stakeholder groups in the water system, including farm bureaus, water districts, environmental advocacy nonprofits, and others.
Water-Energy Nexus is Key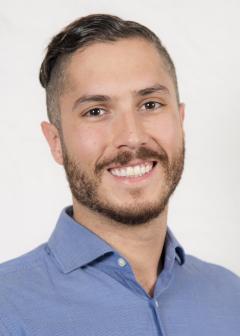 At Berkeley Lab, Arian's research focuses on water and energy―and their interconnection in the agricultural industry. He also studies developing methodologies and software tools for demand response potential and energy-efficiency impact estimation, helping local and global policymakers to estimate the impact (energy, greenhouse gas emission, and cost savings) of energy management systems.
"This training will be helpful to connect the dots for my work at Berkeley Lab," Arian said. "I'm already working with farmers on making their irrigation and other water systems more energy efficient. Water and energy are connected in agriculture―and now I'll be more knowledgeable and better connected with stakeholders on the water side. Our clean energy future will not be possible without the agricultural sector, which is why I've focused my research on ways farms can better manage water and energy and integrate with the rapidly decarbonizing electricity grid. I want to help the world transition to sustainable energy, water, and food systems."
The Water Solutions Network learning cohort will be together during six three-day trainings between March and October held in various water-critical areas of the state. Participants will be assigned to work on a water project with practical application to California's current water challenges and opportunities, and will be supported in working collaboratively with cross-sector group members on the project. The cohort is supported through a partnership of Coro Northern California, DIG IN, and Water Education for Latino Leaders (WELL), with sponsorship by the S. D. Bechtel, Jr. Foundation. The program is guided by a diverse Advisory Councilof water leaders.
***
Founded in 1931 on the belief that the biggest scientific challenges are best addressed by teams, Lawrence Berkeley National Laboratory and its scientists have been recognized with 13 Nobel Prizes. Today, Berkeley Lab researchers develop sustainable energy and environmental solutions, create useful new materials, advance the frontiers of computing, and probe the mysteries of life, matter, and the universe. Scientists from around the world rely on the Lab's facilities for their own discovery science. Berkeley Lab is a multiprogram national laboratory, managed by the University of California for the U.S. Department of Energy's Office of Science.
Related Links