Integrated Systems Packages
Enabling scaled adoption of integrated systems routinely in the real estate life-cycle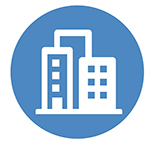 Current practice in building energy retrofits is to treat each building as a unique engineering project, making strategies developed and tested in one place difficult to scale to another similar structure. Furthermore, such retrofits are often too disruptive to building occupants and activities because they are not aligned with the real estate life-cycle. Put simply, it's not currently easy to implement state-of-the-art advanced integrated system technologies that yield deeper energy savings.
We are developing and field-validating a scalable approach to achieve deeper building energy savings by opportunistically integrating efficiency within the real estate business life cycle. The suite of integrated systems packages (ISPs) developed in this project will be optimized for seamless incorporation into routine real-estate life cycle events - renovation, sale, lease fit-out, equipment replacement. To support this, each ISP is being designed with input from real estate stakeholders, evaluated using LBNL's FLEXLAB ® facility, and then field-validated in actual real estate life cycle events in real buildings with our partner CBRE. To ensure persistent, deep savings while significantly reducing the effort and expertise required to deploy advanced integrated systems, each ISP will yield at least 20% validated savings with standardized installation, commissioning, and operating procedures. Technology transition channels include real-estate industry networks for building owners/managers, financiers, and service/product providers as well as utility programs identified by our project supporters ComEd, NYSERDA, and PG&E.

Year 1: Design a suite of integrated systems packages (ISPs) optimized for specific real estate events, yielding at least 20% energy savings.
Characterize typical real estate life-cycle events during which ISPs can be deployed.
Design and specify 3-5 ISPs.
Year 2: Test the identified ISPs in LBNL's FLEXLAB to assess energy performance, indoor environmental quality, commissioning and operating procedures.
Year 3: Field-test the ISPs in real buildings, with packages implemented during actual real estate events, to confirm energy performance, cost effectiveness and transaction costs.
The project will also develop a technology transition plan with a set of strategies for future market uptake of the ISPs through multiple real estate stakeholder channels.
Project Team
LBNL provides overall intellectual leadership and manage the project. LBNL will also lead the development and testing of ISPs.
kW Engineering provides engineering design expertise for ISPs. It will help lead the field validation work.
CBRE provides the field test sites and help characterize the real estate events.
ComEd, NYSERDA, PG&E and other industry stakeholders advise and steer market transformation activities.
Contact
(510) 486-5116
PAMathew@lbl.gov
Commercial Building Systems
Building technology and Urban Systems
MS 90R3111
1 Cyclotron Road
Berkeley, CA  94720   USA