Integrated Systems Packages
Scaling adoption of integrated systems in the real estate life-cycle
Integrated Systems Packages
We are creating and testing a scalable approach to achieve deeper energy savings in existing buildings. The approach has two key elements: a) integrated systems packages (ISPs) that are pre-engineered to minimize expertise and effort required for implementation; and b) seamlessly incorporating ISPs into routine real-estate life cycle events - tenant fit-out, equipment replacement, and renovation.
Each ISP is designed with input from real estate stakeholders, evaluated using Berkeley Lab's FLEXLAB® testing facility, and then field-validated in actual real estate life cycle events in real buildings with our partner CBRE. The goal is to ensure persistent, deep, cost-effective savings while significantly reducing the effort and expertise required to deploy advanced integrated systems. Each ISP is designed to yield at least 20% validated typical savings, with standardized specifications, installation, commissioning, and operating procedures. Technology transition channels include real-estate industry networks for building owners and managers, financiers, service providers, and utility programs.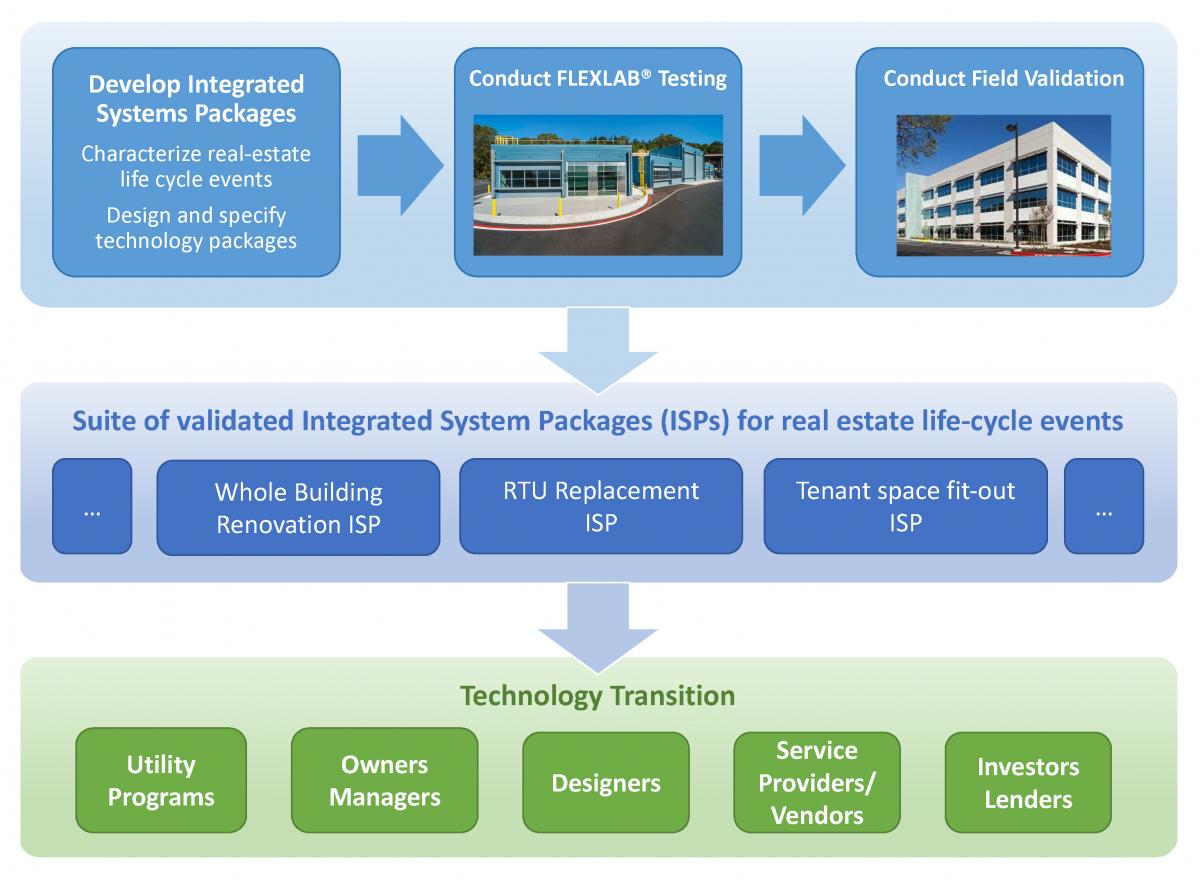 Opportunity to Pilot Test the ISPs    
LBNL is currently looking for demonstration sites to pilot test the ISPs. 
LBNL provides:
Technical assistance for design, specification, commissioning and operation.  
Measurement and verification.
Case study documentation.
The site commits to:
Good faith effort to apply ISP.
Provide site access and relevant data needed for ISP evaluation.
Providing feedback and input to develop case studies.
If you are interested in this opportunity, please contact us for more information. 
We are currently developing ISPs for three real estate events: tenant fit-out, rooftop unit replacement and whole building renovation. Each ISP includes a set of efficiency measures that are commercially proven and amenable to standardization.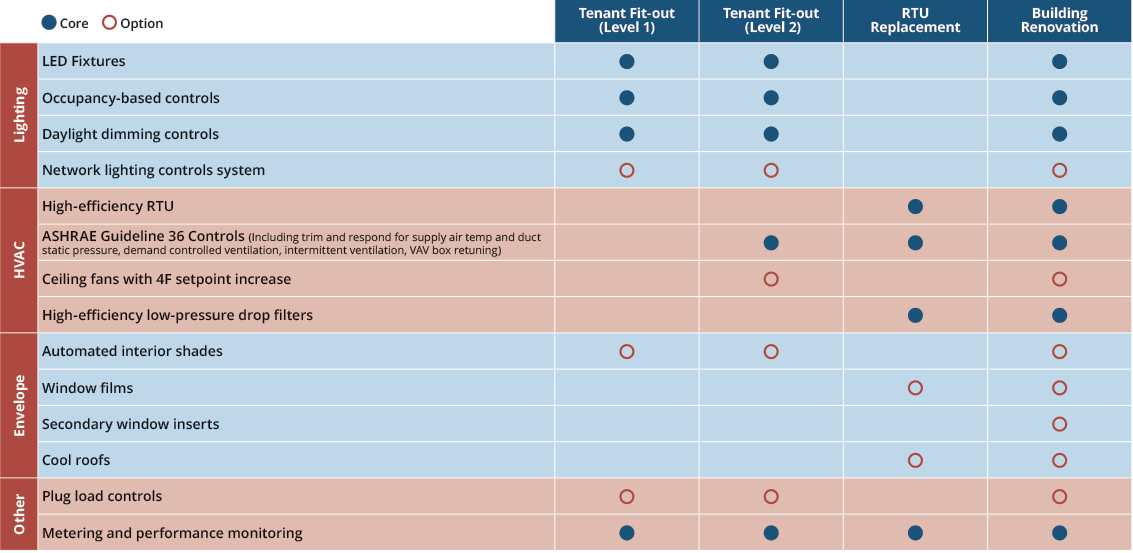 Each ISP will have a toolkit of resources to ease and streamline the process of implementation. These resources will provide project requirements, systems specifications, as well as installation, commissioning and operation guidelines.  The toolkit will also include validated performance data from laboratory and field testing.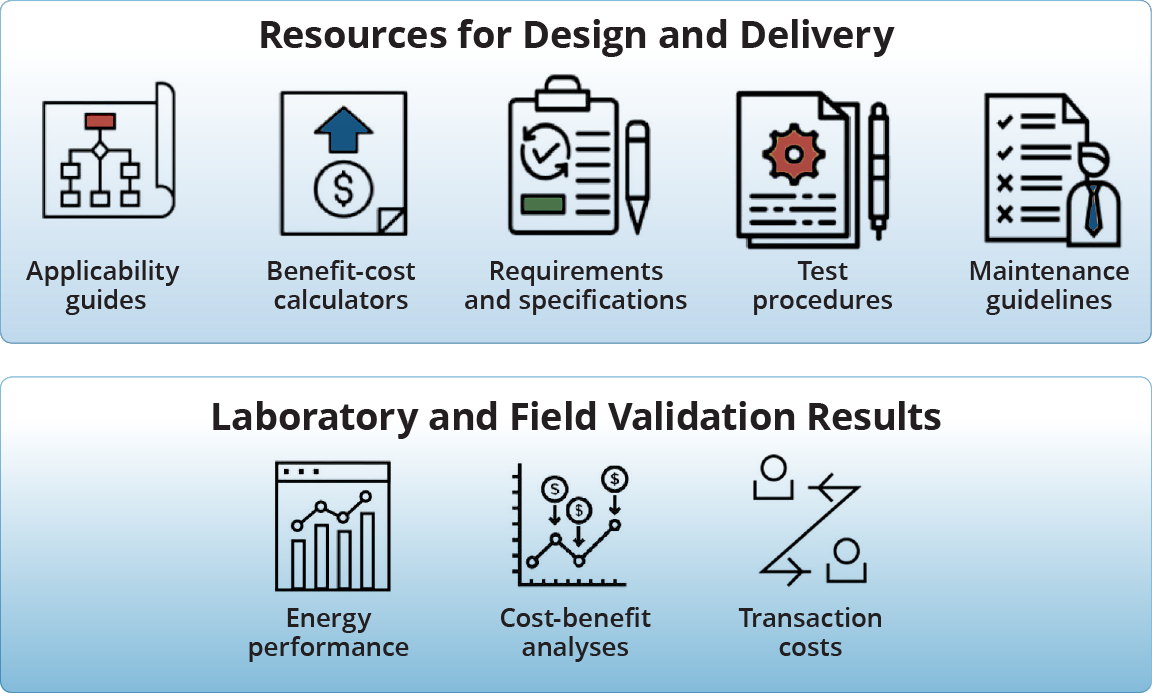 Draft interim versions of selected resources are available below for review and use.  Feedback is welcome and may be sent to isp@lbl.gov. 
Note: Toolkit DRAFT v0.1 includes applicability guides, owners project requirements, specifications (parts and installation), test procedures, and O&M guide template​. It does not include results from laboratory and field testing which are still in progress and will be made available as they are completed.
Energy Efficiency and the Real Estate Lifecycle. Technical Report.
Energy Efficiency Package for Tenant Fit-Out: Laboratory Testing and Validation of Energy Savings and Indoor Environmental Quality. Energies 2020, 13(20), 5311; https://doi.org/10.3390/en13205311.
Berkeley Lab provides overall intellectual leadership and manages the project. Berkeley Lab will also lead the development and testing of ISPs.
kW Engineering provides engineering design expertise for ISPs. kW will also help lead the field validation work.
CBRE provides the field demonstration sites and helps characterize the real estate events.
The Project Advisors include representatives from: ComEd, Environmental Defense Fund, Emcor, Gensler, GSA, NYSERDA, PG&E, Paypal, Rocky Mountain Institute, Therma, TRC, Urban Land Institute.