Best Practice Guidelines and Resources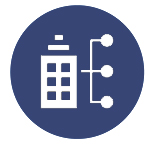 The Berkeley Lab team has developed a collection of templates, technology specifications, evaluation criteria for EMIS:
EMIS Specification and Procurement Support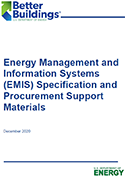 A guide focused on the specification, procurement, and selection of an EMIS or related building performance monitoring and diagnostic technology. It features a Request for Proposals (RFP) template, a Technology Specification that can be tailored to generate owner-driven requirements for technology features and capabilities, data integration, and maintenance support. Also includes an Ongoing Services Specification allowing building owners to generate requirements to support in-house staff beyond the EMIS installation period.
Energy Information Handbook
A guide on how to analyze meter data and identify energy-saving opportunities.​
Monitoring Based Commissioning (MBCx) Plan Template
The MBCx Plan Template is designed for use by building staff to help drive a thorough MBCx process to ensure all team members are fully aware of the Plan and their responsibilities.
Using EMIS to Identify Top Opportunities for Commercial Building Efficiency
A guide that provides an overview of the top energy-savings opportunities in commercial buildings and how they can be identified using the interval meter analytics offered in EIS technologies or automated analytics in FDD systems.
Primer on Organizational Use of EMIS
Primer on how to plan, implement, and use EMIS.
Roundtable Reports
Berkeley Lab hosted industry Roundtable events in 2018 and 2019, bringing together commercial building owners for highly interactive discussions on priority industry topics.
In May 2019 the Roundtable focused on the issue of cybersecurity as it relates to advanced energy efficient technologies and IoT. The Lab researchers met with 20+ commercial building owners to gather insights into the owner's current cybersecurity practices, concerns, and needs. Read the report of the Cybersecurity Roundtable.
In 2018 the Smart Buildings Roundtable was convened to discuss energy efficient smart building technologies with building owners and operators. The result was a day of vibrant discussion on how to achieve greater adoption of energy efficient smart building technologies like EMIS, advanced controls, and IoT devices. A summary report of the day's activity and findings is available.